When I and my darling traveled Singapore . We really impressed with the Singapore Zoo. It is seen as the best in the Asia that I had seen before. We had booked tickets in on a breakfast among the animals, so at about 8.30 we were staring the journey,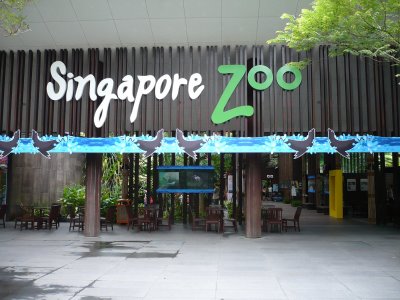 After that we spent almost six hours just wandering around in the zoo, seeing everything from tigers, lions, kangaroos and elephants to small and very cute monkeys.
One of my favourites were the polar bear, as I never had seen one in my entire life before. It sure is huge, and I sure don't want to meet one out in the free...
A visit here is a must if you have any feelings for animals. At this zoo they move around very freely, and they don't sit in cages as in other animal parks.
If you, like me, like to take photos of them, this is the moment to do so. Just don't use the flash as it will scare the animals.
The zoo has 2530 different animals, 315 different species, so there should be something to look for for everyone.
The zoo is open from 8.30am to 6pm. Entrance fee is S$16,50 (8,50 euro) for adults. Half price for kids (3-12 years).
There are restaurants both inside and outside the zoo, so take your time and enjoy it for the whole day!
You can take the tram around the whole place, but I'm still laughing at the smart asses who do that... The tram goes around so fast that you'll have no idea what you're actually looking at! Much better to walk around yourself and see the animals in the tempo you want. You will probably be quite tired in your legs afterwards, but it sure is worth it!
I heard the Safari Nigh Zoo in Singapore is very interesting and worthy but with the limited time we can't join it. Is the anybody tell me this?